Laboratory autoclaves and steam sterilizers
Tabletop designed for your tasks
The laboratory tabletop autoclaves distinguish particularly through their big capacity compared with their compact overall size.

At the construction of these autoclaves we took into consideration that they fit on a laboratory table.
Model LTA 2x3x4 and 3x3x6 have a special feature. They have a squared sterilization chamber according to BoTec-principle. Table top autoclave sterilizers at the highest stage of development.
The whole chamber height can be used on the complete shelf width. The result: with a low chamber volume was reached a big loading capacity in comparison to the conventional round chamber.
The comfortable cover lock with inflatable low- maintenance door seal according to DIN and TRB 402 and a fully automatically microprocessor control contributes to easy operation.
Already the standard version is suitable for the operation in a laboratory.
They are equipped with warm holding program for liquids and timer for programming start time point for example. All models have a long-life flexible temperature sensor for the sterilization time trigger.
* A large variety of accessories for example quick recooling, printer, makes it possible to fit the autoclave for every application.
Type
Volume (Litres)
Chamber
(WxHxD) mm
Overall dim.
(WxHxD) mm
Heating Power
kW
Electricity Power
Labstar
25
24 R
Ø 294 x 350
500 x 650 x 670
2,2 / 2,8*
220 – 240V, 50/60 Hz, 16 A
Labstar 40
43 B
320 x 320 x 420
500 x 650 x 670
3,0 / 2,8*
220 – 240V, 50/60 Hz, 16 A
LTA 3x3x6
72 B
320 x 350 x 630
700 x 800 x 750
6,0
380 – 400V 50/60 Hz, 16 A
R = round chamber, B = angular chamber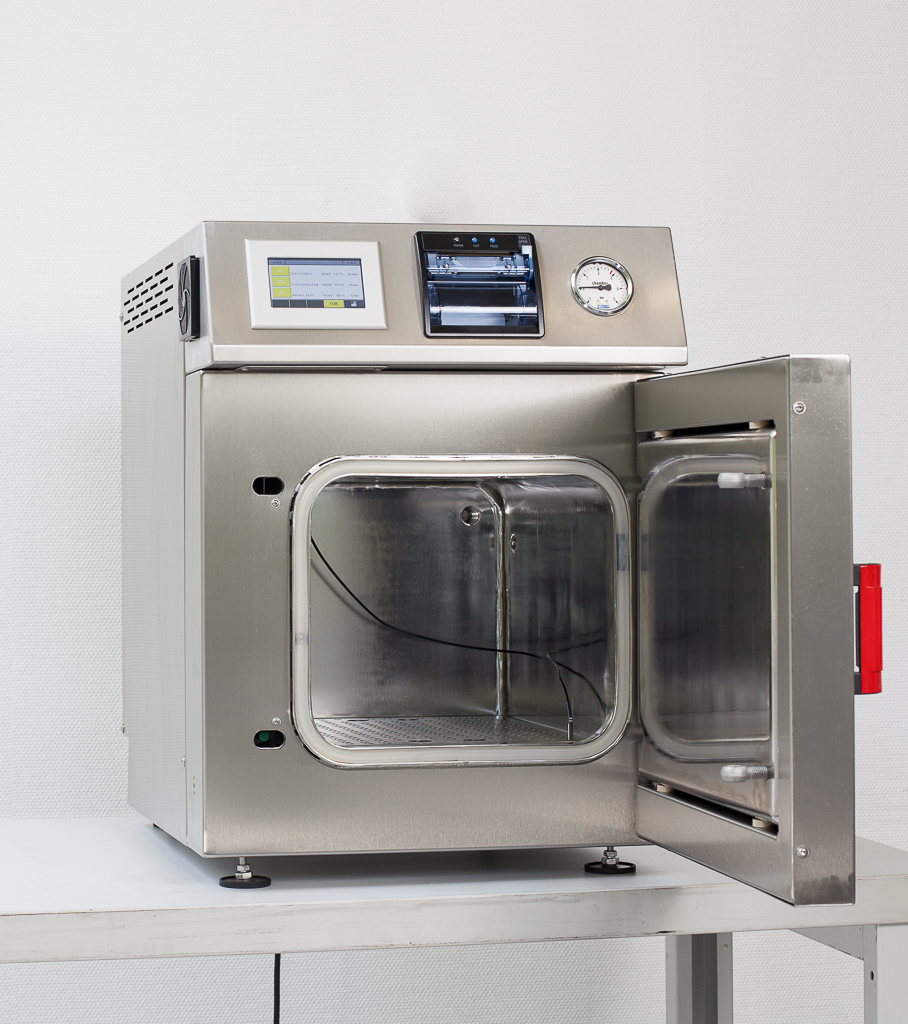 Laboratory Autoclaves: Capacity
Medium-Bottles
Schott ml
Labstar 25

Labstar 40

LTA 3x3x6
250
14
50
72
500
10
15
23
1000
5
12
19
2000
2
5
9
5000
4
Erlenmeyer Flask
ml
Labstar 25

Labstar 40

LTA 3x3x6
250
10
30
46
500
6
11
18
1000
2
6
10
2000
–
3
8
Laboratory autoclave Labstar 40 with magnetic stirrer
Reduces the cooling time after the sterilization