High-Pressure Autoclaves
For research, tests and production
Our high-pressure autoclaves (HDA for short) are mainly used in research and production and are manufactured directly in our plant in Bad Grund according to your wishes and requirements.
The devices are built individually for you and can be produced with up to 20 bar (abs) operating pressure and an operating temperature of up to 250 °C.
The HDA are available as horizontal or vertical versions. Different chamber dimensions from Ø 300 – 1,400 mm and different heating systems are available: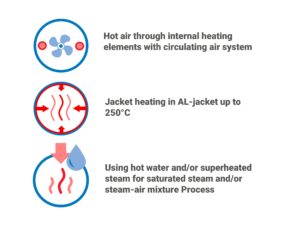 The high pressure autoclaves are completely produced in Germany at our production plant, Bad Grund. In addition to our selection of standard systems, the vessel can also be manufactured according to your wishes.
Pressure Range: 0 – 20bar
Temperature Range: 25 – 250 °C
Diameter: 400 – 1400 mm
Volume: 60 to 5000 litres
Fastening: Bayonetlock from Ø 500 mm automatic
Material: high grade steel 1.4571/ AiSi 316 or 1.4404/AiSi316L
Standards – Certifications: 2014/68/EU & AD2000
Technical features
Heated or non heated
Stirrers, circulating air ventilators
Saturated steam, air steam mix
Complete control systems
Snap buckles
Performance of all safety standards
Field of application:
Food industry for product development
Electronic industry for laminating of Touchscreens
Quality control for aging tests
High pressure autoclave HDA 1200-5-150
with steam generator and integrated steam accumulator for fast heating and high steam output.
Autoclave chamber dimensions: (D)1200 mm x (D)1800 mm with automatic bayonet closure
max. operating temperature: 150 °C; max. operating pressure: 6 bar abs.
Specification HDA 1000
The high pressure autoclave of the 1000 series has an automatically closing bayonet lid lock with safety interlock. The unit is completely made of stainless steel 1.4571/ AiSi316Ti, is electrically heated by internal heating elements and is PID controlled for precise regulation. 2 solenoid-coupled circulating air fans ensure an even temperature distribution. The control is done by a Siemens SPS series S7-300 with 15″ color touch screen with integrated industrial PC. The application area of this high-pressure autoclave is e.g. the lamination of touch screen monitors or the vulcanization of rubber components.
The HDA1000 has a volume of 1,000 liters and operates at a maximum pressure of 12 bar and a temperature of 190 °C.
The high-pressure autoclave
In scientific laboratories and pilot plants, the high pressure autoclave is used very often. It is investigated how different starting substrates change under different temperature and pressure influences.
What is a high-pressure autoclave?
The high-pressure autoclave is a consistent further development of the generally used autoclave. The autoclaves are used to sterilize equipment, tools and materials. They can be used in the chemical industry, medicine and also in the processing industry. The high-pressure autoclave, on the other hand, is only slowly finding its way into practical application.
It differs in its construction from the autoclave, mainly in its massive construction. High-pressure autoclaves are designed for pressures far above 100 bar. The material properties must therefore be able to withstand such a load. All connections, i.e. valves, measuring devices and closures, are specially designed for applications under the influence of high pressure and temperature.
The high-pressure autoclave is subject to very strict test criteria. In addition to a regular visual inspection by a certified testing institute, a pressure test must also be performed and recorded at strictly prescribed intervals. Here, the device is loaded up to its maximum permitted temperature, whereby the pressure curve in the autoclave can be measured.
What is the high pressure autoclave used for?
In the broadest sense, the high-pressure autoclave can also be called a reactor. Reactors of this type are used in both laboratory and pilot plant scale. It is especially used in the field of research on alternative energy sources. For example, the hydrothermal carbonization process, HTC for short, relies on the high-pressure autoclave. Here, different starting substrates, for example fermentation residues from biogas plants or biological waste, are placed in the pressure-tight high-pressure autoclave with the addition of water. Very high pressures are created inside the reactor when the autoclave is heated in a controlled manner to temperatures of up to 350 °C. Due to the influences of pressure and temperature, the substrates change their chemical structure, they carbonize. Thus, a long biological process is simulated in a very short time, for example the formation of lignite or coke. This process is particularly interesting for the treatment of sludge from waste water treatment plants. The high temperature influence and the resulting pressure treatment frees the highly contaminated sewage sludge from any kind of pollutants. The sludge is literally sterilized by splitting it into its chemical components. The result is an almost sterile waste water and HTC coal that can be used as soil conditioner. The fields of application of the high-pressure autoclave are far from being fully explored. The influences of extreme pressure and the resulting high temperatures still leave a lot of room for scientific research and the resulting practical applications. In the field of hydrothermal carbonization, the high-pressure autoclave has already made its way into industrial applications.