Pure Steam Generator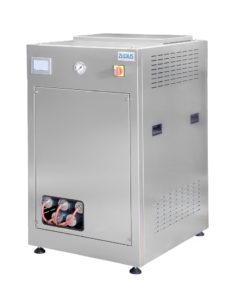 Our compact electric steam generators of the Steamboy series are available in different sizes from 9 – 78kW. As standard, the units have a maximum operating temperature of 155°C; at an operating pressure of 5.5bar (abs). Optionally, a pressure increase to 8 bar or partially to max. 20 bar is also possible.
The pressure vessel is completely made of stainless steel 1.4571, ASi316Ti. A highly efficient insulation reduces heat radiation to a minimum. The housing and the supporting frame are made of finely brushed stainless steel 1.4301/ AiSi 304. The heating is done by high quality stainless steel heating elements controlled by a microprocessor controller. The steam pressure is infinitely variable via a built-in touch screen. The pressure vessel and the safety equipment comply with the European Pressure Equipment Directive DGRL 2014/68/EU.
Summary of advantages:
short heating uptime
compact construction, therefore less space required at the place of installation
pressure container made of 1.4571/AiSi316Ti stainless steel
steam valves and pipes made of 1.4404/ AiSi316L stainless steel
case and support frame, made of brushed-finished 1.4301/ AiSi 304 stainless steel
CPU-controlling with pressure adjustment depending on steam extraction and complete control for fully automatic operation
heated feed water tank for reduction of inert gas
fill level measurement without mechanical components and independent of water quality

Steam generator Steamboy:
| | steam output/h | max. operating overpressure | max. temperature |
| --- | --- | --- | --- |
| Steamboy 9 | 12 kg | 5,0 bar | 155°C |
| Steamboy 18 | 23 kg | 5,0 bar | 155°C |
| Steamboy 30 | 39 kg | 3,5 bar | 145°C |
| Steamboy 50 | 65 kg | 5,0 bar | 155°C |
| Steamboy 80 | 102 kg | 5,0 bar | 155°C |
Technical highlights:
Fully automatic microprocessor control with touch panel for easy operation. Adjustable operating pressure from 2000mbar … 4500mbar. Vapour pressure measurement is infinitely variable via a pressure sensor (remote control via network connection or potential free contact possible).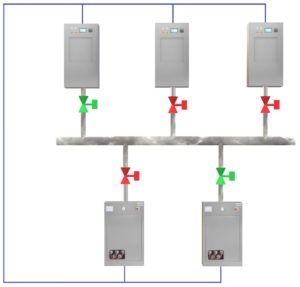 High purity steam version
Steam-conducting valves and lines are made of stainless steel 1.4435/ AiSi316L and orbitally welded. Weld seams and inner surfaces are chemically passivated and electrochemical polished. The piping system in this version is designed without dead space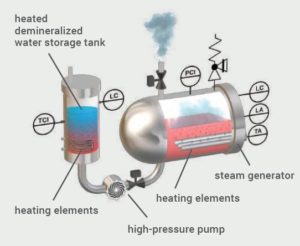 More options for the Steamboy:
Automatic steam generator desalination with conductivity measurement and heat recovery
Connection to the building control system
Water treatment
Steam pressure increase up to 20 bar on request