Used autoclaves and freeze dryers

We often have used Autoclaves and Freeze dryers in stock. The laboratory equipment is checked by us in advance. Before the autoclaves and freeze dryers go on sale, they are overhauled and serviced by Zirbus technology as manufacturer. Defective components are replaced exclusively by new parts. Just contact us if you are interested in one of the devices. Depending on the model, we can install additional options so that the used autoclave and freeze dryer is also optimized for your task.
Autoclaves used (prices on request):
LabStar 25

Key data:
Year of construction: 2019
Chamber volume: 25 liters
Usable space: (Ø) 300mm x (D) 360 mm
Dimensions of basic unit: (W) 450 x (H) 520 x (D) 660 mm
Various accessories and equipment variants available.
Freeze dryer used (prices on request):
Freeze Dryer Sublimator 3x4x5 SN 3468

Key data:
Year of construction: 2014 (refurbished)
Floor space 0.75m² (6 x 250 x 500mm)
Footprint distance: 65mm
Ice condenser -80°C / 15kg/h
Dimensions: 1300 x 1850 x 850mm WxHxD
Additional features:
-5.7″ color touch display
-Mitsubishi control
-3 flexible temperature sensors
-stainless steel door with sight glass
25m³/h 2-stage vacuum pump
-Water-cooled cooling system
Freeze Dryer Sublimator 15 SN 4939

Key data:
Year of construction: 2019 (refurbished)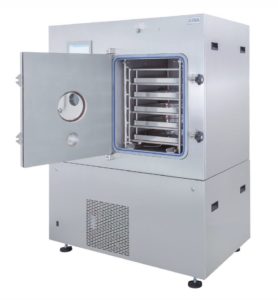 Footprint 0.96m² (6 x 320 x 500mm)
Floor space distance: 60mm
Ice condenser -75°C / 10kg/h
Additional features:
-10″ color touch display
-Mitsubishi control
-3 flexible temperature sensors
32,2m³/h 2-stage vacuum pump
-Water-cooled cooling system
-additional capacitive vacuum sensor
-Process visualization with PC
-Hot water defrosting