Used autoclaves and freeze dryers
We often have used Autoclaves and Freeze dryers in stock. The laboratory equipment is checked by us in advance. Before the autoclaves and freeze dryers go on sale, they are overhauled and serviced by Zirbus technology as a manufacturer. Defective components are replaced exclusively by new parts. Just contact us if you are interested in one of the devices. Depending on the model, we can install additional options so that the used autoclave and freeze dryer is also optimized for your task.
Autoclaves used (prices on request):
Laboratory table-top Autoclave LabStar 25
Key data: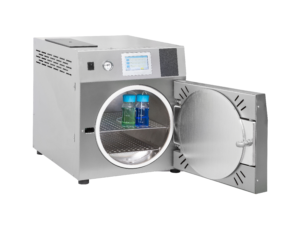 chamber volume: 25 liters
usable space: (Ø)300 mm x (D)360 mm
Dimensions of basic unit: (W) 450 x (H) 520 x (D) 660 mm
Weight basic unit: ca. 45 kg
permissible operating pressure: 3,8 bar absolute
permissible operating temperature: 140 °C
Various accessories and equipment variants available.
Available immediately!